Do We Really Want To Bounce Back?
Event Date:
28 January 2021 9:30 am — 28 January 2021 11:20am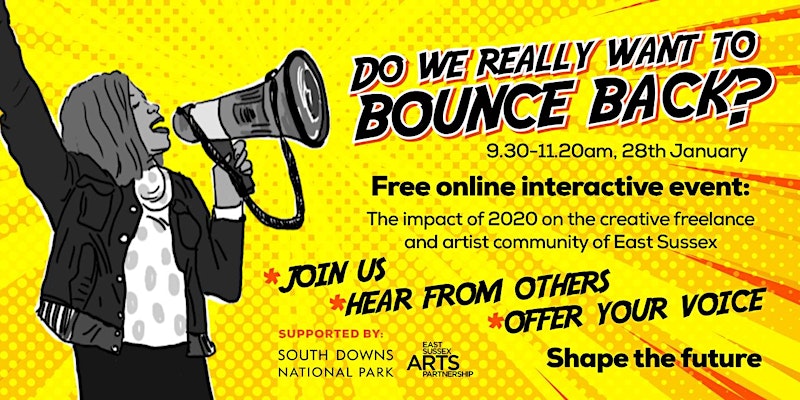 Facilitated by Cultural Baggage and Soundcastle, and supported by the East Sussex Arts Partnership and South Downs National Park Authority, join them online on the 28th January as they discuss the impact of 2020 on the creative freelance and artist community. What needs mending and what needs to change to ensure that livelihoods are not lost and are sustained in the future?
They have a range of brilliant speakers, all of whom have been involved in, or instigated initiatives that have responded to the impact of Covid 19 on individuals working in the cultural community.  Speakers will be talking about a range of initiatives, including Freelancers Make Theatre Work, Artist Support Pledge, Freelancers Task Force and #FreelancerFutures all initiatives or pieces of research that started in 2020. This event is for creative professionals, artists and organisations across East Sussex (excluding Brighton & Hove). Join us, hear from others, offer your voice, shape the future.
Meet and share your experiences. To find out more and book please click here.